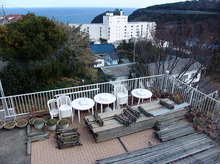 From tomorrow we will start to repair our building.
This time we will repair the roof, the walls outside and the walls of inside of Japanese style rooms.
So we can not be able to accept the reservation until March 20th.
But we accept the reservation of only February 10th, Friday and 11th, Saturday.
After all construction we are looking forward to meeting you again at renewed Sakuraya.
Please understand our situation. Thank you very much.