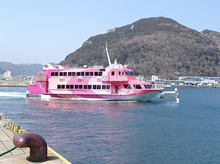 From this month, February this Jetfoil goes to Izuoshima and Tateyama in Chiba Pref for 1 month.
In this season "Tsubaki (Camellia) Festival in Izuoshima and Kawazu Sakura(Cherry blossom) Festival in Kawazu and Minami Izu are held, so this ship is operated from February 8th to March 14th.
The first Jetfoil was build by The Boeing Company in 1975.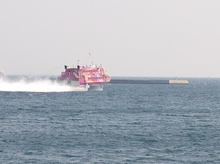 But Kawasaki Shipbuilding Company has a right of making and sales this Jetfoil now.
This Jetfoil goes ahead and flies over the water surface.
Would you like to know how to do it and its secret?
You will be able to know it in this website.
We want to get on this Jetfoil someday with my children, but they have only one way to Izuoshima a day…. .
If you would like to go Izu seven island from Tokyo by this ship, you can do that.
Please ask Tokai Kisen Company 03-5472-9999 (Japanese only).