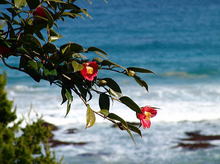 It was heavy rainny day yesterday, but today is sunny. The carpenters started to break the roof again from this morning.
By the way when I went to the postoffice, I went to the beach to take a photo. Then I found the tree of "Tsubaki" (Camellia) by the sea.
The color of red of Tsubaki and blue of sea are really beautiful.