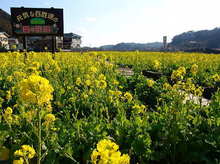 Today it was sunny, so I went to Minami Izu (Southern Izu) to take a photo of rape blossoms.
This place is a gate of "Shimokamo Onsen", there is a big field of rapes.
We have "Cherry and rape blossoms festival" in this area every year and "Rape blossoms wedding ceremony" will be held in this field on February 12th, Sunday. It is real wedding and 1 couple will be married.
 Would you like to see the photos of this wedding? (Japanese only)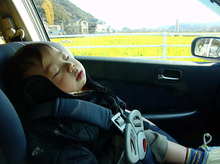 Before getting to this filed Yuuki has already been in his dream.
I was going to take a picture of him in rape blossoms, but I will try it next time.
By the way I wrote about Rape blossoms wedding, but this is one of events of Cherry blossoms festival in Minami Izu, that is held from February to March 10th.
Last year we could see many cherry blossoms in this stage, at the beginning of February, however the cherry flowers have not bloomed yet this year.
I guess the best season of this flower this year would be 10 days or 2 weeks later.