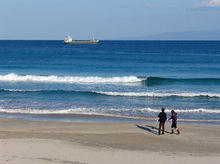 It was strong windy yesterday, but today it was really silent in Shirahama.
There were only 2 couples in the beach. One of them was walking along the beach side and sometimes taking a photo.
When I was taking a photo I noticed one thing.
It was about 3:30pm. The sun was setting …..