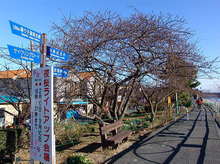 From today, February 10th, "Kawazu Sakura Festival" is held in Kawazu town until March 10th.
I usually go to shopping to Shimoda, but today, I went to the supermarket in Kawazu town and saw this festival with my son, Yuuki.
In order to the information of Kawadu Sakura blooming , that I found through the internet, almost of every trees did not have Sakura bloomed.
After walking wiht my son I found one of trees, that had the flower of Sakura…
.