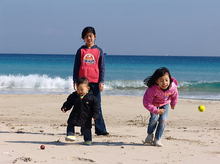 "Where are you going?" My daughter Akari asked me.
"I'm going for shopping for guest's dinner."
"Me too !"
Actually I was in a hurry because I had to prepare the dinner.
But at last I decided to go to the supermarket with my daughters Akari and Hikari, and my son Yuuki.
In my mind I was going to the beach with them to take a photo.