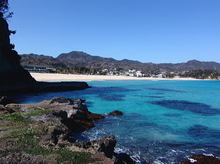 Today we had a little wind but it was very beautiful today.
How was your town ?
I took this photo on the rocks at the southern area of Shirahama beach.
The sky was really blue and the sea was shinning under the sun.
As I had a meeting in the night, I took a photo at the beach too….. .