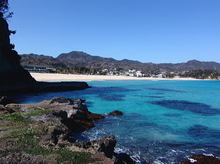 Today we had a little wind but it was very beautiful today.
How was your town ?
I took this photo on the rocks at the southern area of Shirahama beach.
The sky was really blue and the sea was shinning under the sun.
As I had a meeting in the night, I took a photo at the beach too….. .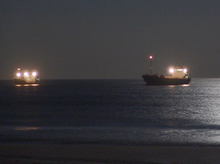 Tonight we had a full moon and could see 4 ships under the moon light.
In order to the weather forcast it will begin to rain in Kyushu area tomorrow.
In Izu peninsula it will be mostly cloudy but very warm like April.
I guess Sakura in Kawazu town and Minami Izu will bloom more and more if the warm day would continue.
I hope we can see Sakura blossoms soon.