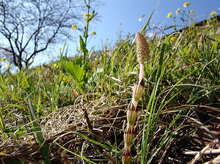 When I went to Minami Izu to see the Sakura festival I found the horsetail there for the 1st time this year.
We, Japanese fell that the spring has come when we see this horsetail.
Last year I could take a photo of it under the Sakura tree, but Sakura has not bloomed enough yet this year.