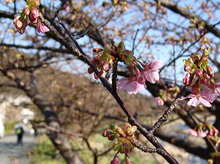 When I went to Shimokamo town in Minami Izu for my buissines I went to see Sakura blossom.
When I went there last time I could not find Sakura blossoms, but today I found some flowers.
It has been very warm in Izu in these days, so I think the flowers waked up.
After that I went to the field of rape…….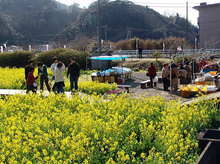 There were many people than last time.
And the shops which selling the fruits, vegitables and several kinds of food were opened this time.
The website of Minami Izu tourist information said "Sakura trees will have 20 or 30 % soon."
Everybody is looking forward to see the full bloomed Sakura as soon as possible.