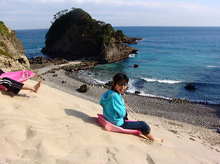 "Why don't we go to Sand Ski tomorrow ?"
When we went there last time on February 5th, my daughter said to me "I want to come here again with my friends."
So I went to Touji beach with my daughters and their friends today.
My son Yuuki was in a house because he has a little fever….. .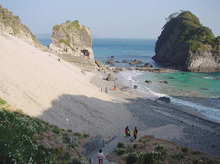 Can you see the small people near the sea? (Please click this phto to see the large one.)
This slope is 70 meters and 30 degrees.
Today we had a little wind from the sea, so when we go down this slope the sand come toward us.
If you would like to go there you had better to prepare the goggle, the water to wash the mouth and nose.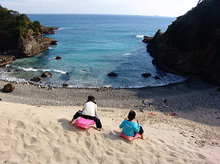 From top of this slope we can see the beautiful sea and islands.
It takes only 15 minutes from Shimoda city.
But they have only 1 bus goes to Touji a day. Please be careful.
(You can see the small peples on 3rd photo.)