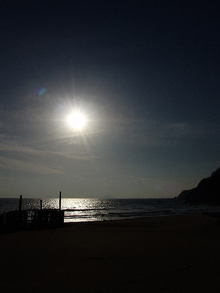 Here is a question.
When did I take this picture in the morning or afternoon ?
The answer is "Morning".
The western side of Izu, "Nishi Izu" is very famous for its sunset.
But Shirahama beach is on the eastern side of Izu peninsula, so we can't take a picture of sunset on the sea.
When I wake up in the early morning I sometimes take its picture. Especially we can take picutures of the beautiful sunrise from the horizon in the winter.
Would you like to see it?