After the dental treatment of my wife finished we went to Minami Izu to see Sakura and Rape blossoms.
It was 3rd time for me and 2nd time for my son, but 1st time for my wife to come to see these rape blossoms this year.
These flowers are bigger day after day, some of them were taller than my son at last….
"Try that, Yuuki !"
In these days my son can take a smell of flowers like this picture.
He is bigger and bigger everyday.
He is very cute, right ?
After rape blossoms we went to see Sakura blossoms to the other place.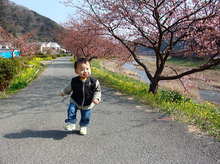 We could see many flowers of Sakura more than last time.
But Sakura bloomed like this picture on the end of last February. It is different a month from last year.
I guess that the best time to see Sakura blossoms would be the beginning of March.
Would you like to see these flowers ?
Please get the information in this webpage.
Pension Sakuraya – An accommodation in Shimoda, Izu, Japan