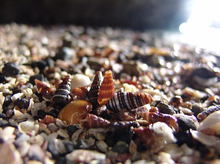 Do you know what these are ?
Today, as my wife had to go to the dentist, my son, Yuuki and me went to Shimoda together.
While my wife's dental treatment my son and me went to Kisami Ohama beach. I have ever seen this sea, but it was 1st time for me to go to the beach.
After walking in the beach we arrived at the end of this beach. And we found the stairs into the cave ……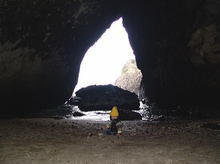 There is a hall on the other side of cave, and we could see the outside sea.
Then we found the shells near the waves.
The big shell is about 1cm and the small one is only 5mm.
In Shirahama beach we can't find shells, but why are there a lot of shells in this cave ?
It is mysterias !!