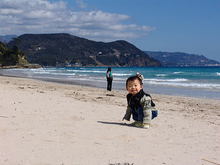 Today it was very warm in Shirahama.
I felt a summer a little when I was in a car.
On the route 135 there were a lot of cars of the other prefecture, because now we are in a long holidays in Japan.
Before going to Shimoda my son, Yuuki, and me went to Shirahama beach…..
In the beach there were many travellers who were watching a sea, taking a walk and sleeping on a mat.
Some of them were walking without shoes.
I understood that they wanted to do it
because it seemed like the begining of summer today.
My son was interested in touching sand.
That's OK, but please do not bring a sand into our car, Yuuki !!