I have heard that we can take a beautiful picture of clouds in Shimoda especially.
In this early morning it was silent and no windy in Shirahama but we had a strong wind after around 9:00am.
That's why the air was very clear and we could see great Amagi mountains.
White clouds was floating in a blue sky…..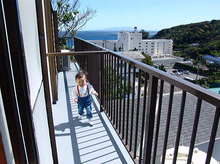 After checking out our guests, when I was cleaning guest rooms my son came as usual.
Today we could see green mountains in front of Sakuraya and shinning sea from the window.
My son was playing outside of room.
I know that he was very happy with a beutiful day.