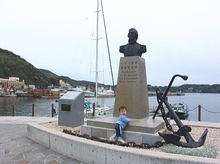 Today my daughters had a class of classical ballet in Shimoda, so my son and me went to Shimoda harbor to spend a time.
This is a landing monument of "Commodore Matthew C. Perry".
In 1854 his squardon came to Shimoda to investigate weather it could supply the water, charcoal and other materials needed by American vessels…..
After the conclusion of the Treaty of Kanagawa Perry's seven ships entered the port of Shimoda.
The impact of arrival of the "Black ships" on Shimoda was enormous for the local people of Shimoda.
After that the Treaty of US – Japan Peace and Amity was signed at Ryosenji temple in Shimoda.
The official relationship was not established between these two countries until March 1854.
This monument was established to commemorate the landing of Perry and the sailors of his squardon at this point.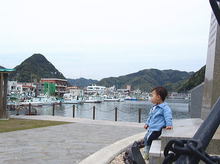 From this place we can see a port of Shimoda, Shimoda town and Mt. Shimoda Fuji.
I guess that my son, Yuuki, could study a history of Shimoda today. (I'm joking … )
Link:
Monument of Perry's arrival in Shimoda
Please check it out to get more informations and photos.