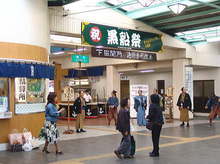 Do you konw what Sekisho is ?
Sekisho is a one of checkpoints where the goverment of Edo era stopped every traveller.
During Black Ship Festival the Railway Company, "Izukyu Line" changes Shimoda station like this picture every year.
And there are many people wearing costumes of Edo era……. .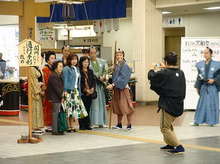 So the travellers ask them to get in a photo together.
It is really interesting and fantastic !!
I think that they had better do it all the year except summer, because the summer of Shimoda is very hot.
Besides I recommend them to change the station's name from "Izukyu Shimoda Station" to "Izu Sekisho Station".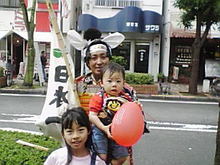 PS: My wife took this pictures by moblephone.
In Shimoda town we can see a lot of people wearing several costumes like citizens or Samurai of Edo era.
She is "Momo Tarou", a hero of Japanese most popular legend.