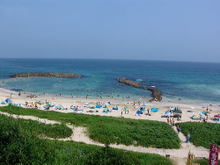 The rainy season had already been over, but after that, it had been almost cloudy here in Shimoda in these days.
And today, a summer came back again to Shimoda at last.
I went to "Shirahama Chuuou Beach" to take pictures under the sunshine.
I took this picture from the road on the hill.
Well, let's go to the beachside……