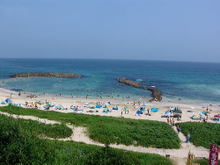 The rainy season had already been over, but after that, it had been almost cloudy here in Shimoda in these days.
And today, a summer came back again to Shimoda at last.
I went to "Shirahama Chuuou Beach" to take pictures under the sunshine.
I took this picture from the road on the hill.
Well, let's go to the beachside……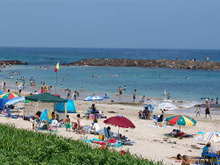 Have you ever been to Okinawa or Ishigakijima ?
In Shimoda we can see a really beautiful beach like this.
The sand is white and the sea is blue… .
This Shirahama Chuuou Beach is next to Shirahama Ohama beach which is nearest one from Pension Sakuraya.
There is a small creek, evern if the wave is too big the children can play and swim here in this creek.
And there are rocks around this creek in the sea, when we have low tide we can find sea animals.
We can go this beach through the back of Shirahama shrine from Shirahama Ohama Beach, it takes about 20 minutes by walking.