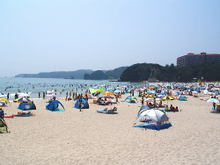 My daughters, Akari and Hikari caught a cold at last.
Because it had been a little cold in these days in the last weekend.
So I took them to the hospital in Shimoda.
After that I went to Tatado Beach to take pictures.
Today it was very hot here in Shimoda, so I could see a lot of people in this beach….. .