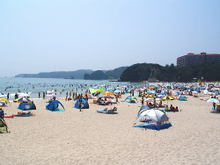 My daughters, Akari and Hikari caught a cold at last.
Because it had been a little cold in these days in the last weekend.
So I took them to the hospital in Shimoda.
After that I went to Tatado Beach to take pictures.
Today it was very hot here in Shimoda, so I could see a lot of people in this beach….. .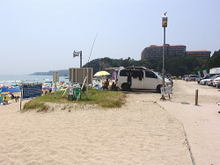 This beach has some public parking lots by the sea like Shirahama, Sotoura and Kisami.
The capacity of these public parking lot would be about 100 cars.
The parking lot fee is 1,500 yen a day.
It was a first time for me to see this beach in the summer, but I was surprised that there were a lot of people in this beach.
This beach is one of 9 beautiful beachs in Shimoda, and it takes only 15 minutes by car from Shirahama.
Would you like to go there this summer ?
The nearest bus stop is "Tatado Hama", it takes about 7 minutes from Shimoda train station, and about 3 minutes by walking from this bus stop to this beach.
If you go there by car, I recommend you to go there to get parking lot in early morning during busy summer !!