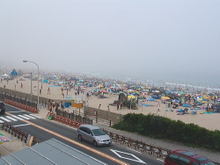 "It is prohibited to swim today, so we came back."
Our guest who went to the beach this moring said so.
"Let's go to the beach to check the condition !"
I went to the beach with my children after job.
When I saw the sea from the 2nd floor of Family Mart I could see a looooooot of people and fog over there.
We have many foggy days this summer, because the temparature of water is colder than usual……