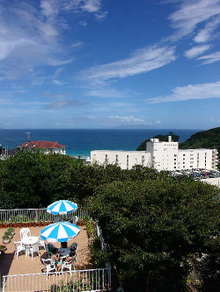 Today it was a very beautiful day !
When I was working I found the blue sky, so I went outside and took this picture standing on the roof of Sakuraya's building.
Actually I wanted to go to the beach to take beautiful sea, but I was very busy today.
Our guest who came back from the beach said,
" It was excellent the blue sea under the blue sky !!"
In the summer we can not see a beautiful sky like today, because it is misty even if it is sunny.
By the way the typhoon is coming toward Japan, it was a calm before a storm, I think.