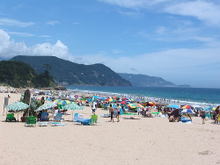 Yes, when I went to Shimoda for shopping I took these picture at Shirahama beach.
Actually I was going to post it soon but we are very busy and tired every day in summer, so I couldn't do it.
Well, in spite of that Obon holidays were over there were a lot of people in the beach.
I took this picture in front of Family Mart.
I am showing you the another picture which I took on Route 135……
This is it.
Lst year it was very hot from July, but it was a little cool afte the middle of August.
But this summer, as you know it was not hot in July, and we could get summer hot days after August.
Would you like to get sunshine this summer ?
You will be able to swim until September here in Shimoda.