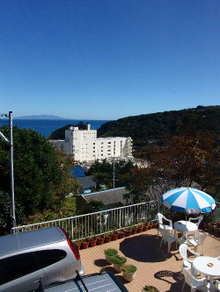 Today it was very beautiful day too !!
There was no cloud in the blue sky and we could see Izu Oshima island clearly.
Actually I wanted to go to the beach to take a picture but didn't do it because I had clean up the rooms today.
Some of our guests went to the beach to swim and read a book at the balcony outside.
When they came back from the beach I asked them about the water and they said,
"It was not cold and enough to swim !!"
How do you get to Shimoda from Tokyo, by train or by car ?
By train:
The best way would be taking Limited Express Train "Odoriko" by JR.
In this case you don't need to transfer at any station, it means this
train goes to Simoda directly.
And you had better take the reasonable Free Pass "Odoriko Minami Izu
Free Kippu" for this train.
You can get the informations in detail in the following webpage.
http://izu-sakuraya.jp/english/freepass.htm
The timetable for JR:
http://grace.hyperdia.com/cgi-english/hyperWeb.cgi
Please fill out the form as follows,
Start Point: Tokyo Destination: Izukyu Shimoda
If you would like to take this pass you had better go to JR station to
book the seats as soon as possible.
The seats on the left side toward Shimoda in this train would be better
for you, because you will be able to get the ocean view from the left
side seats.
By car:
We have 2 ways to get to Shirahama from Tokyo by car.
<1>
Tomei Express way – Atsugi IC – Odawara – Atami – Ito – Kawazu – Shirahama
<2>
Tomei Express way – Numazu IC – Mishima – Shuzenji – Amagi mountain –
Kawazu – Shirahama
It takes about 3 hours, or 3 and half hours from Tokyo, if you don't
have a traffic jam.
Anyway, before coming to Shimoda, please check the map of Sakuraya with
photos in the following webpage and bring it to find our Pension easily.
http://izu-sakuraya.jp/english/mapwithpicures.htm