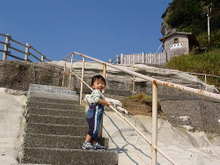 Today it was beautiful day, so I went to Nishi Izu with my son, Yuuki.
After 1 hours driving we could see the ocean and drove for 5 minutes we got to "Sawada Koen (Open-Air Spa)"
in Dogashima.
When we arrived there was nobody in a parking lot and I found a sign at the reception of this Onsen.
"Closed on every Tuesday" it said.
But I was not going to take a bath there because my son had a little cold today.
After parking my car we went up the steep steps to get to Onsen on the top of hill.
"Hey Yuuki, watch your step !!"   …..