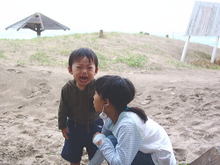 Today it was almost cloudy and we had sometimes a little rain in Shirahama.
As I had to go to Shirahama Tourist Information I took my children, Hikari and Yuuki, together.
There was nobody on the beach, even surfers, becase we did not have good waves today.
When I was in the office I heard a voice of Yuuki crying outside.
I asked my daughter and she said,
"Yuuki wants to get off the shoes. But I said No because it is rainning here today."
I sometimes take my children recently and my son plays on the beach, so he wanted to do it today too. …..
"Ok, Hikari. You can play outside for a while, so make his shoes off."
Yuuki changed his face smile soon and began to play with Hikari.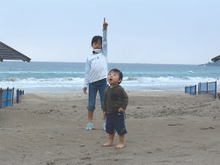 After 10 minutes, when I went to the beach they were playing.
"Look ! Airplane in the sky !!" I said.
Actually we could see anything in the sky because it was cloudy.
But my son turned his face up soon.
Yes, he loves airplane and car.