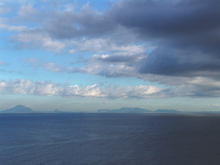 This morning it was very beautiful day, but the clouds came to Shirahama in the afternoon.
I went to "Ogasaki Wing", the spot where we can see Izu seven islands and Shirahama.
And I took this picture.
You can see the islands between the cloud and the ocean. ……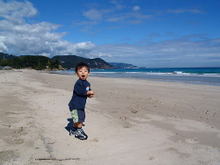 This is a picture which I took this morning on the beach of Shirahama.
We could see beautiful blue sky and sea.
My son was happy playing on the sand.
By the way we will have holidays for a week from tomorrow.
We will go to Ishigaki islands by airplane.
See you again.