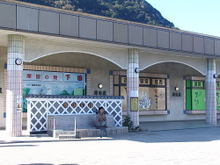 I went to Shimoda train station today.
I have ever been there a lot of times, but I have never show this.
This is Foot Spa in front of Shimoda station building.
This spa is free of charge and opened for 24 hours.
The capacity is about 4 people, so it is not big, I think.
If you go to Shimoda by train please try it once.
Besides I show you the view from this spa. …..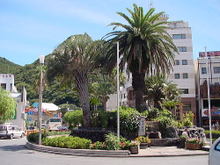 We can see the tree of phenix at first, and there is a small spring of Shimoda hot spring under these trees.
You can touch the natural hot spring here for free anytime.
And we can see "Mt. Nesugata-yama" over there.
There is a cable car station in front of Shimoda train station. (We, Japanese call it "Rope way".) And we can get to the top of Nesugata-yama by cable car.
We can see Shimoda bay, Suzaki peninsula and southern area of Izu peninsula from the top of this mountain when it is sunny and the air is clear.
Shimoda Shirahama Beach: Guest House Pension Sakuraya
<Links>
Izukyu Shimoda Train Station
Shimoda Cable Car