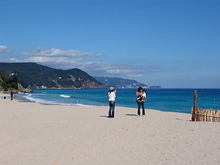 Today a small music consert took place at Shirahama elementary school, so my wife, my son and I went to see it.
After that, when my wife went to "Family Mart" in front of the beach my son and I went to the beach.
We could see a family with small baby and they are taking a picture.
I guess that their baby is a first child, so everything is fresh for them with new baby.
When I was taking pictures my son said,
"Airplane, dad !!" ……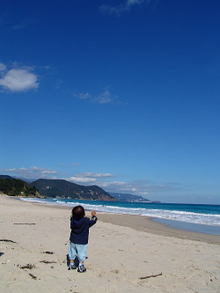 He was shouting toward the sky.
As the air of the sky was very clear he could find it easily.
Since he got on the airplane last month he has been interested in the vihicles, especially airplane !
Every airplanes which come from western Japan go to Haneda airport flying over Izu peninsula.
If you take the airplane from Kansai or Kyushu please shake your hands.
My son will say "Hello" to you.