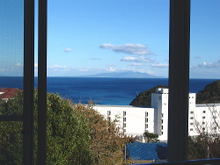 Today we had a little wind but it was warm this afternoon.
How did you feel in your place today ?
By the way this is a view from 2nd floor of our Pension.
When I was cleaning up this room I could see Izu Oshima island over there, so I had a break to see it for a while.
As the air is very clear in the winter we can see Izu seven island.
I am going to show the view from same place after 3 hours. ……