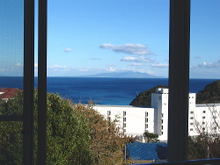 Today we had a little wind but it was warm this afternoon.
How did you feel in your place today ?
By the way this is a view from 2nd floor of our Pension.
When I was cleaning up this room I could see Izu Oshima island over there, so I had a break to see it for a while.
As the air is very clear in the winter we can see Izu seven island.
I am going to show the view from same place after 3 hours. ……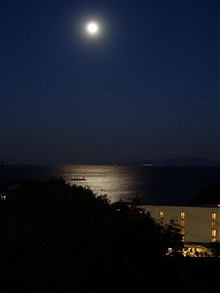 I took this picture at around 5:15pm.
Is that fullmoon ?
I could see a ship under the moonlight and Motomachi town in Izu Oshima over there.
We had been able to get to Oshima from Inatori town in Izu peninsula 2 or 3 years ago, but the ship goes to this island from only Atami, Yokohama and Tokyo.
We can see Oshima with sunrise but they can see Izu peninsula with sunset.
Shimoda Shirahama Beach: Guest House Pension Sakuraya