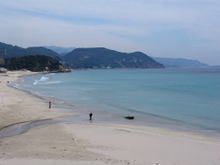 Today it was cloudy and a little cold in Shirahama.
The ocean didn't have big waves.
Yes, it seemed like a "Lake".
Shiraham beach has usually good condetions for surfing.
It was very good for waling on the beach because we didn't have strong wind, but there was no surfer in this beach.