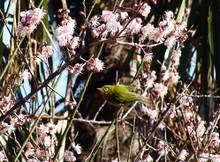 It was sunny today too in Shirahama.
The plum trees are fully blooming and the white-eyes came to this tree to get hunny.
We usually can find them two birds, they may be a couple.
This is a good season for them because they can find easily many kinds of flowers in our garden.
I am showing today's Shirahama beach …..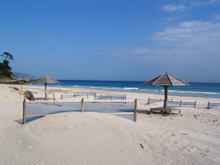 We didn't have wind and it was silent beach here.
But I found a surfer in the ocean in spite of having no good wave today.
What was he doing ?
Maybe he came from the mountain area where they don't have any sea, so he was satisfied floating on the ocean without good wave, I guess.