This year it is Pension Sakuraya's 20th Anniversary.
We decided to give the original postcard to our guests who stay at our Pension this year.
I had been taking pictures for 6 years since 2000, and total number of my pictures would be more than tens of thousands pieces.
And I selected some pictures of them and made the original postcards…..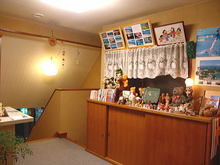 Our postcards would be ocean, beach, flower, nature and etc.
You can find it at the entrance of our Pension.
Please select one of those pictures while you stay here.
And I give it when you check-out.
Thank you !!