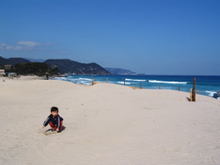 Today we had a little wind but it was very warm here in Shimoda.
I went to the beach to walk with my son, "Yuuki".
When we got to the beach there were many people who were watching the ocean sitting on the sand and walking with their dogs.
And besides, a lot of surfers were in the sea…. .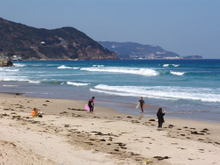 In these days they have good waves here in Shirahama.
That's why surfers come to this beach to get waves.
And that's why the waves made a lot of seaweeds up to the beach.
After walking with my son it became to hot for me.
It seemed the weathere of April today.