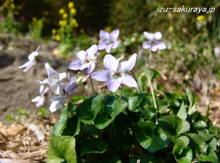 "I could smell the spring outside, dad !! "
My daughter, Akari, came into crying this afternoon.
Today it was cloudy and sometimes sunny, but very warm in Shirahama.
In these days a lot of flowers around Sakuraya started to bloom.
This flower is …… .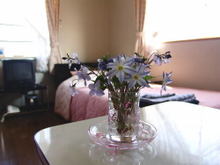 Japanese vaiolet which we can see in the natural moutains in Japan.
My aunt decorated this flower in the room for today's guests.
These flowers looks like a small bouquet make this room bright.
Yes, the spring has already come to Shimoda !!