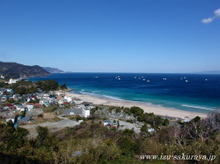 In these days I had been writing in this weblog, "The spring has come."
But it was very cold and we had very strong wind today.
I went to the top of small mountain behind our Pension with my son and took this picture.
The color of the ocean is winter's blue !!
And a lot of ships were in this beach because of the strong wind. ……
I took this picture on the beach.
There is a small mountain of Shirahama shrine at the middle of this picture and I could see "Amagi mountains" clearly behind it today.
We usually can see snow on that highest mountain in Izu peninsula from this beach in the winter some times, but we will not be able to see it this winter, I guess.
Anyway, I prefer this color of the ocean in winter than in spring.