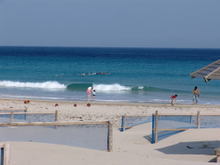 I went to the beach today too.
There was a family playing on the beach, and their children were getting into the water.
We had very strong wind this morning but this wind stopped at around noon.
So they could feel the spring here in Shimoda, I think. …
And I could find the girls were practicing on the beach.
I think they are members of the club "Life Guard" in the university.
In this season we can not see Izu Oshima Island over the ocean because the air is not clear.
So today it was not good for taking a picture but the spring ocean makes us happy and we can have a good time slowly and comfortably.
Shimoda Shirahama Beach: Guest House Pension Sakuraya