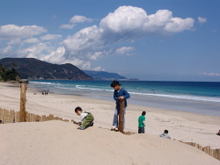 In Sakura season the weather is changing day and day.
So it was sunny today after some days in Shimoda.
When my son, Yuuki got into the beach he started to run around on the beach soon.
I understand that he was very happy and comfortable in a big field…..