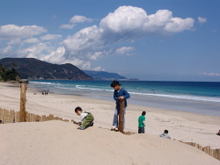 In Sakura season the weather is changing day and day.
So it was sunny today after some days in Shimoda.
When my son, Yuuki got into the beach he started to run around on the beach soon.
I understand that he was very happy and comfortable in a big field…..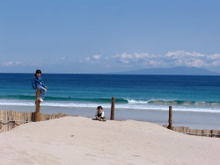 There were many people who were walking on the beach sitting on the sand.
The water was really beautiful today, so our guests who stay at Sakuraya were very lucky, because they could see a blue sea.
The beautiful and blue sea make us happy, right ?
Shimoda Shirahama Beach: Guest House Pension Sakuraya