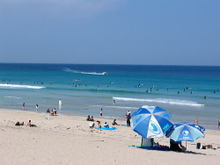 We had been very busy these days, so couldn't to to the beach to take the pictures.
But it was very beautiful day today, therefore I decided to go to the beach after finished to clean up the rooms in a hurry.
Actually we could see a gorgious sea after 5 days.
It was sunny and very hot today, so there were a lot of peole on the beach…