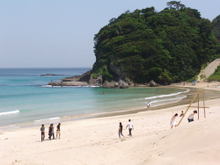 When I was watching TV news today I found the scene of my home town "Miyazaki".
It was more than 35 degrees in Miyazaki city, that's why the TV news informed it.
Here in Shirahama it was also very hot !!
It was seemed like a real summer.
There were some peoples who were swimming in the sea.