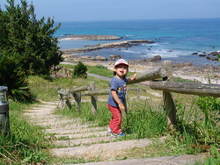 Today it was beautiful day, so I went to the beach with my son to take a walk.
This is "Shirahama Chuo Beach" next to Shirahama Ohama Beach.
After parking our car at the parking lot near the beach we started to walk.
Yes, I was going to a secret cave in Shirahama…….