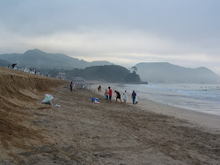 This morning we, the local people of Shirahama area cleaned up the beadch from 6:00 am.
I was thinking there would be a lot of trashes on the beach, but actually there was no big trash after all.
Probably the typhoon brought them….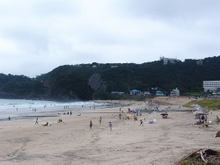 In the afternoon I went to the beach again.
Today it was cloudy, sunny and sometimes rainy.
There were a lot of people on the beach and they were swimmng, walking, surfing and doing favorite things.
I asked our guests of Sakuraya and he said, "The water is not cold and it is enough to swim today."