How have you been?
Today it was sunny and very warm here after 5 days in Shirahama.
I think blue sky and sea looks very good for this beach.
As it was weekend today there are many people on the beach and a lot of surfers in the sea…..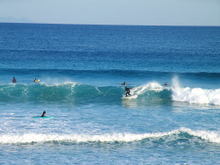 Yeseterday it was dark and grey sea with rain here but they had beautiful sea and good wave.
By the way December has come at last.
We have many things to do for the end of year and preparation for a New Year holidays.
It will be colder day after day from now please take care of yourself !!