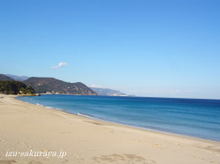 Today it was very warm here in Shirahama.
Now it already is in December but it is not cold in these days.
When I went to the beach with my son there was nobody walking there on the beach and no surfers in the sea.
Because they didn't have good wave today.
Yes, it was very silent……