How do you like this picture?
This morning when I waked up I thought,
"It will be a good condition for the picture today."
As I had to go to the beach to clean up with all of local people I waked up early and went to the beach.
After that I moved to the place behind Shirahama shrine and took this picture…..
Yesterday we had very strong wind from west.
In this case a lot of ships come to Shirahama beach to save and protect themselves from strong wind.
So I was thinkng I would be able to take pictures of the ships with sunrise.
I show you one more.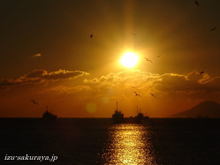 I think this is very good for the tilte roll of movie.
The golden sun on the horizon and the bird flying in the sky invite us to the mysterious world.
Actually I wanted to take the picture of sunrise with ships this winter.
So I am very happy!!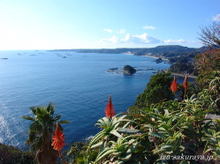 I took this picture at around 10:00 am today.
There is a parking space calld "Ogasaki Wing" at the entrance of Shimoda city and we can get a beautiful scenery here like this.
Did you find the ships on the ocean on the other side of Shirahama beach?
The red flowers of aloe were very beautiful.